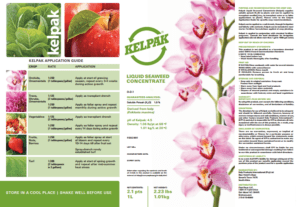 This is the BEST & SAFEST growth stimulant available!
Unique among seaweed extracts, this kelp concentrate is made from fresh Ecklonia maxima kelp from South African waters.  It works more like a "shortcut supplement" to stimulate growth, rather than being simply a source of hormones.  Yes, it is higher in auxins than cytokinins, which is also unique among seaweed extracts, but the degree of growth stimulation is far greater than would be expected from its hormone content.
Basically, Kelpak contains and delivers the same biological materials a plant produces for itself, but by being an external source, the plant does not have to expend its own resources to make them, so can expend them on more growth and better flowering.  A good analogy is that of a "plant IV" – a football player may get an IV at halftime, replenishing fluids and electrolytes, giving him a "boost" for the second half.  Similarly, Kelpak stimulates all aspects of plant development, which results in better root and shoot growth, flowering, fruit development, and improved resistance to stresses brought on by drought, overwatering, temperature extremes, and some diseases.
Kelpak is more effective and much safer to use than synthetic hormones, and has a shelf-life of at least two years if kept cool, dark and tightly sealed between uses.
PLEASE NOTE:  Since 2010, we have been repackaging and relabeling Kelpak as "KelpMax" at the request of the producer in South Africa.  With the arrival of our next shipment, we will return to using the original name (Read this).  There will be absolutely no change in the product.
For orchids, we recommend the product be used in three different ways, depending upon your need, but always at 1 Tablespoon/gallon:
Plants with no roots
Using warm water, immerse the entire plant for an hour or two.
Without rinsing, pot it up, and water it in with that solution.
For the next two waterings, use the Kelpak solution.
Repotting plants with decent root systems
Pot them up and water them in with the Kelpak solution.
Repeat the next two waterings.
Existing, established plants (and those above, after  the recommended treatments)
Add to irrigation water or fertilizer solution no more often than once per month.
People frequently ask if Kelpak is usable on other plants.  The answer is an unequivocal "YES!!!".  In fact, it has been used on food crops, fruits, nuts, bedding plants, turf and shrubs for over 40 years; we were first to introduce it to the orchid world, back in 2011.  We routinely use it on all of out plants, indoors and out.  Here is a photo of some common impatiens plants planted in early April, treated with Kelpak twice in a 2-week period, plus the plants 8 weeks later.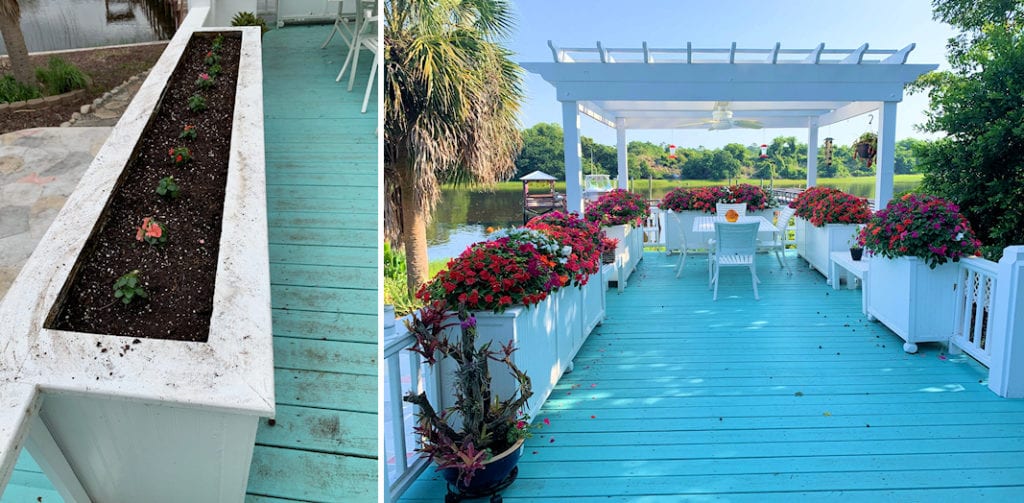 Download our sales brochure, and product label, and read more HERE.
Price includes fast and free shipping to US addresses.
Downloads:

Canadian Customers – Order your Kelpak from C & C Orchids in Hamilton ON!