The package of nutrients and additives that we have found to be excellent for all epiphytes, consisting of:
1 liter Kelpak Superior Biostimulant
A natural product that won't damage plants like synthetic hormones and concentrated trace element products.
2 pounds K-Lite Orchid/Epiphyte Fertilizer
Designed specifically to mimic the nutrient rations they see in nature.
1 quart Quantum-Total Plant Probiotics
Beneficial microbes that protect, feed, and energize your plants.
Once in your shopping cart, you will automatically receive a discount
Complete instructions provided, but you can download a brief "how to" guide here: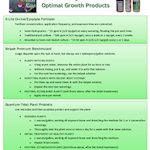 Price includes shipping to US addresses.